By Bridget Stephenson
At California Against Slavery, our vision is a connected and collaborative California anti-trafficking community committed to preventing human trafficking, protecting victims and providing resources to survivors. Aiming to support missions that encourage statewide collaboration, we want to recognize and highlight the Center for Justice and Reconciliation on their outstanding effort to create collaborative initiatives to have maximum impact in the anti-trafficking cause. The CJR developed the OnRamps Collaborative, which currently partners with 12 different organizations and agencies to create strong community cooperation.
In 2013, Point Loma Nazarene University began to consider where to put their stake in the ground. As part of the growing movement to combat human trafficking, they asked themselves, "What gap in our community can we uniquely fill?" Thus the story began. In 2014, as a response to survivors, the Center for Justice and Reconciliation established the Beauty for Ashes Scholarship Fund dedicated to providing a college education for survivors of human trafficking. This scholarship supports survivors by providing tuition-free education to Point Loma Nazarene University. 
The Beauty for Ashes Scholarship is the first college scholarship in the nation for survivors of human trafficking. Grassroots fundraising efforts gave them the seed money to bring the first students to campus in January 2016. In 2018, the first three survivor scholars graduated. As supporters from the beginning, we've seen this scholarship unlock opportunity and change lives, while also creating space for healing and empowerment. 
As a committed player in the anti-trafficking movement, the CJR is continually going back to focusing on uniquely filling the gaps to fit the needs of every survivor's individual journey. That was when they noticed an emerging theme. When individuals try to leave a life of being prostituted and trafficked, the lack of viable options for a bright future is a primary barrier. Access to education, not the pipedream, but the actual pipeline to college is a critical solution. From their deep work in the movement they knew that only a small group would ever overcome the trauma to be successful at college. Their survivor-students are already an anomaly: surviving unspeakable trauma to complete community college. However, college can seem impossible if you are facing barriers that make learning a challenge, such as housing instability, hunger, lack of mental health support, educational disabilities and more.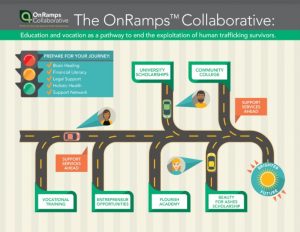 Approaching the stability of survivors through the lens of holistic health (spiritual, emotional, intellectual, physical, social, environmental, and financial) the CJR aims to identify the barriers women face as they pursue job training or education. This directly impacts recidivism. The inability to secure financial stability — to pay the bills — is a road that leads them back to their exploiters. They are building a new road.
Taking a collective approach to this need, the CJR created the OnRamps Collaborative. The OnRamps Collaborative aims to build a holistic support system for survivor-students by supporting their journey to, through and beyond college, while addressing obstacles to success. For those survivors living in the San Diego region who do not choose college as their pathway to a brighter future, the OnRamps Collaborative steps in to provide an onramp to help them succeed. These onramps include vocational training, entrepreneurship opportunities, university and community college scholarships and the Flourish Academy.
The first cohort for the Flourish Academy "soft-launched" this January in 2021. In this unprecedented year of pandemic, it has never been more clear that the focus needs to remain on providing the opportunities for survivors of trafficking to build a stable and self-sufficient future. The CJR is now working with more than 60 survivors of trafficking, with the list growing each day. Their programs are innovative and are not available from any other provider in this unique format.
Now, the Center for Justice & Reconciliation sits at the center of the region's collaborative efforts to end human trafficking. The University's long and deep ties in the community uniquely positions them to mobilize and support others to address human trafficking. They are committed to leveraging their community leadership and influence with local partners to significantly improve the region's efforts to end this injustice.
On June 19th the CJR will be hosting Hope Rising as a virtual format, giving everyone the opportunity to participate. This event will dive into the impact and the new programs, click on the image above to register!