Who started it?
In the fall of 2018, during the JuST Conference in San Diego, California Against Slavery had a booth next to the Safe Shelter Collaborative. Throughout the entire conference, Ginger and Luz got to know Leah Policoff, Account Services Manager for Safe Shelter Collaborative and Catherine Hurd-Johnson, COO of Caravan Studios. We talked about each organization's goals and projects and realized we were all striving for the same goal of connecting existing service providers to provide better care to survivors. With government grants, Caravan Studios created the Safe Shelter Collaborative to connect providers to find shelter faster for victims. We decided then and there that we wanted to bring this partnership to Southern California. There have been many, many video meetings where CAS, the San Diego County District Attorney's Office, service providers, and shelter organizations who wanted to participate in the formation of the collaborative got together to shape the structure of this SoCal Safe Shelter Collaborative. Our partners serving survivors of human trafficking, domestic violence and sexual assault include, among others, the following organizations:
What is it?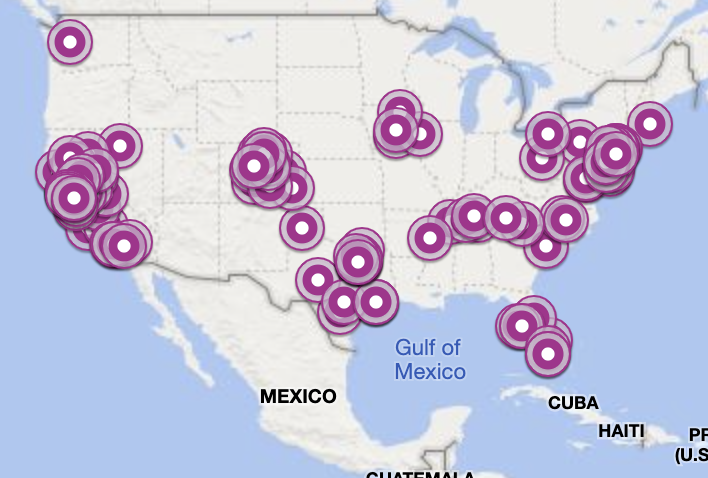 The Safe Shelter Collaborative connects domestic violence, human trafficking and sexual assault service and shelter providers by building regional collaboratives among trusted partners.  A virtual platform is then employed to help those partners to more quickly and easily communicate survivor shelter needs.  Finding a bed that provides the right services for each victim's particular situation is a process that typically takes several hours or even days — the Safe Shelter Collaborative reduces first response time to an average of 5 minutes.  Currently, there 171 participating agencies in 17 states.  Safe Shelter Collaborative serves the survivor first with our common goal to give everyone a violence-free night.
Why is it important?
Easing and expediting the process of finding shelter, protects the victim/survivor from retraumatization by avoiding the need to retell their story over and over again in the search for shelter.  It also curtails the time service providers need to spend in the search.  Time they can invest in directly helping survivors.  One screening tool, one anonymous request among trusted partners… the first steps to safety and recovery for survivors.  
How does it work?
There are two things that this collaborative does: locate a bed within an organization or help fund the stay for a hotel while a proper bed is located. SoCal Safe Shelter launched on August 26th with 22 organizations and agencies — 12 of these are referral partners and 10 have beds available. These amount to a total of 380 shelter beds in the collaborative*  (some shelters serve both domestic violence and human trafficking survivors). 
207 beds for Human Trafficking victims
176 beds for Sexual Assault victims
349 beds for Domestic Violence victims
Though this is a key milestone providing services in our region, shelters are often full. Being able to provide effective long term recovery services can take anywhere from months to years of treatment. This creates a backlog for immediate services or cases are often re-routed to different regions. For this reason, Caravan Studios created the Safe Night app. The Safe Night app enables organizations to request immediate funding for a temporary hotel stay.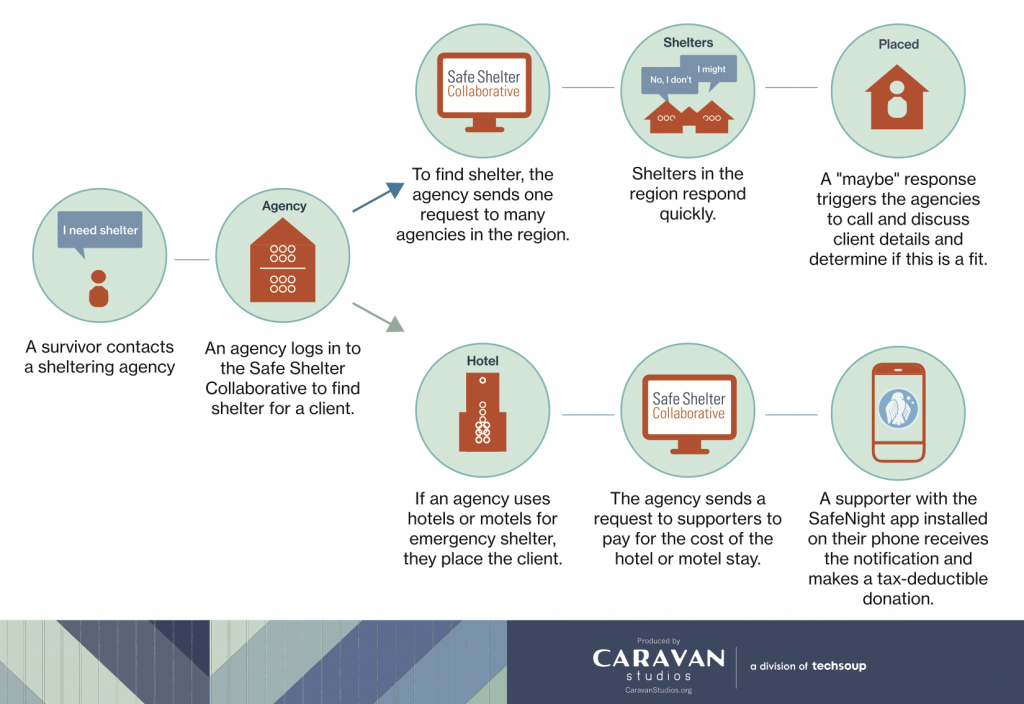 What can you do?
You can download the SafeNight App (for Apple or Android) and support an organization of your choice when they need funds to pay for a victim's hotel room while they are placed in a proper shelter. You, as the potential donor, will be notified only when there is a need and only for the specific cost of hotel- typically $75-$150 to fund one or two nights. With just a couple of clicks, you will be able to immediately sponsor that individual safe shelter with a tax-deductible donation!
Download the SafeNight app here!
Organizations participating in SafeNight by Region:
San Diego
Los Angeles / Riverside
Bay Area
Northern California
Sacramento/Central Valley
Kene Me-Wu Native American DV SA Program